20th June 2016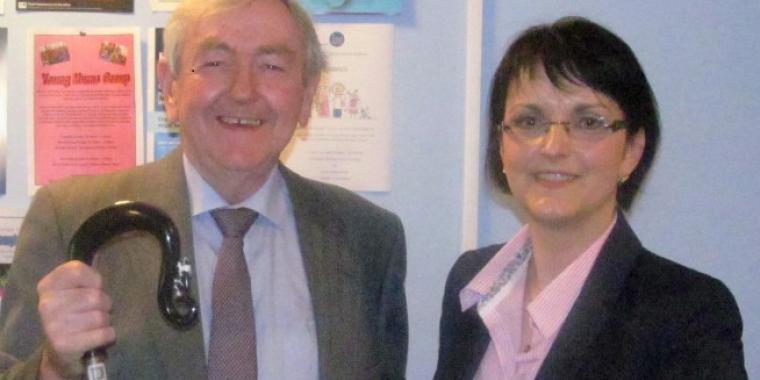 Jim McPherson from Kirk has been a Caithness CAB volunteer for over 20 years, having joined us in August 1996.
Jim worked as a Generalist Adviser, but in latter years has used his huge knowledge of Crofting Law to advise and assist many people throughout the Highlands and Islands with complex queries and matters relating to Crofting. Jim was pretty well unique in this field and was a very valuable resource and a fount of information. He has also for the last few years been a part of our Specialist Housing Team, advising and assisting people faced with rent arrears and the possibility of eviction and has represented many people in Wick Sheriff Court. Jim was presented with a Shepherd's Crook, engraved glasses and a bottle of port at a farewell ceremony at Wick CAB last Thursday.
Jill Smith, Caithness and North Sutherland CAB Manager said "Jim's commitment and dedication over more than two decades is an example to us all. He has assisted hundreds of local people, not only providing reassurance and counsel, but recouping thousands of pounds on their behalf, not only in the generalist field, but through his specialisations in the crofting and housing areas. Thanks to Jim's skills and dedication many people have been saved from eviction. Jim is highly regarded, not only by his friends and colleagues in Caithness CAB, but also by all the other agencies and organisations we deal with throughout the Highlands and Islands. He will be greatly missed by us all".