Thank you to our CAB Volunteers
3rd June 2019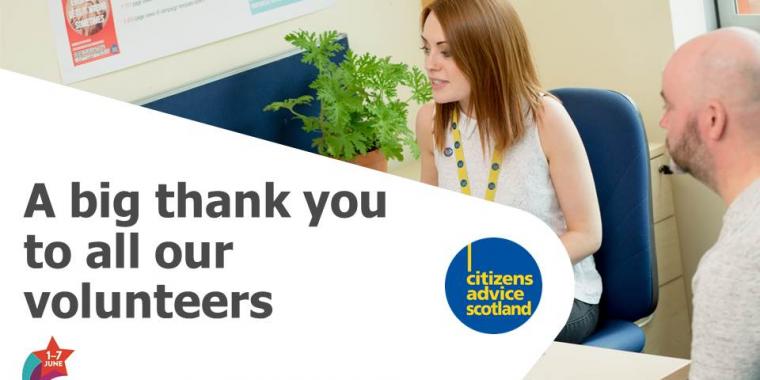 CAS SAYS THANK YOU TO VOLUNTEERS WORTH £10MILLION
to mark the beginning of Volunteer Week (1-7 June 2019) Citizens Advice Scotland is saying thank you to its volunteers, who are worth £10million to the Scottish Citizens Advice network.
Nearly 2,500 volunteers work in Citizens Advice Bureaux all over Scotland, helping in lots of different ways.
The average time given to volunteering across the network each week is six hours.
If bureaux paid all those volunteers the average wage for those six hours, though some do a lot more, the additional wage bill to CAB across Scotland every year would be just shy of £10 million.
Those volunteers helped put £138million back into the pockets of people across Scotland in 2017/18.
The charity will use volunteer week to encourage new people to take up the opportunity of volunteering in their local bureaus with a social media campaign.
People can volunteer in the Citizens Advice network in a range of ways, from fundraising and administration to being a trained adviser.
Citizens Advice Scotland Chief Executive, Derek Mitchell, said:
"The Scottish Citizens Advice network helps hundreds of thousands of people each year on a range of issues, advising on a huge range of issues.
"We're part of almost every community in Scotland and we put £138million into the pockets of people last year.
"That simply would not be possible without the exceptional work our dedicated volunteers who give up their time and energy to help people in their communities. The value of that work is £10million to Citizens Advice Scotland but for many people their advice and support has been simply priceless.
"As Volunteer Week begins I want to say thank you to our brilliant volunteers, and encourage people who might be thinking of helping out to get in touch with their local bureau or CAS and we can point you in the right direction."
Eilidh McIvor has a double perspective on Citizens Advice. She's one of a handful of people working both at Citizens Advice Scotland and volunteering at a local bureau in Leith.
Eilidh said:
"My connection with Citizens Advice happened almost by accident. I went into Motherwell & Wishaw CAB with a query and ended up volunteering.
"It's not an exaggeration to say it changed my life. I was 24, hadn't been working that long and didn't know much about life.
"Working at the bureau was incredibly shaping for me in a lot of ways. When I started, I immediately became interested in social security benefits. I found I enjoyed filling in benefit application forms and mandatary reconsiderations for clients; not everyone's favourite job.
"That interest also inspired me to go back to uni and do a Masters in policy. I've been doing social policy for Citizens Advice Scotland for almost two years now and my interest in benefits remains as strong as ever, as I plough my way through the realms of Universal Credit policy.
But part of me missed being on the frontline. I wanted to go back to volunteering again. So last October I started at the Leith CAB, one day a week.
"I'd recommend it to anybody – not just colleagues. Policymakers in government should definitely all do a month's intense placement in a bureau!"